When I was young, a man who died a good seven years before i was even born was a great influence to me...
His believe in the potential of each of us, the importance of self expression and of non conformity....
He changed the American stereotype that the chinese man was a meek man in a thin moustache saying in a high pitched voice 'you want fortune cookie?'
He had a million people lining the streets when his movie came out...
His film is still a cult bestseller in video stores today
He has a video game, a biography movie about his life and countless book after his name
and his call will echoes through time....as what you'd say when delivering a good kick...
He was my inspiration...to always live my dreams.
His name was Bruce Lee.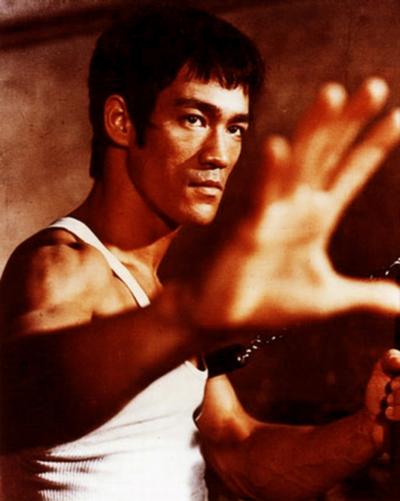 Me, marcus and my brother were avid fan of his...and not just of his martial arts but his philosophy as well. Not many of you would think of Bruce Lee more than a kicking killing machine...but the man is wiser than his macho outlook. Here are a few sample of his quotes...
on love


Love is like a friendship caught on fire. In the beginning a flame, very pretty, often hot and fierce, but still only light and flickering. As love grows older, our hearts mature and our love becomes as coals, deep-burning and unquenchable.



on learning



Absorb what is useful, Discard what is not, Add what is uniquely your own


"A wise man can learn more from a foolish question than a fool can learn from a wise answer."
and of course...on kicks
I fear not the man who has practiced 10,000 kicks once, but I fear the man who has practiced one kick 10,000 times.
so as I walked through the cemetery, it was like a homage of sort...and when I sat there...reverence.
All the time I was there...cars come and go to take picture with the grave...there were Filipinos, Japanese, English, Americans...all coming and going one after another...one Japanese remarked...he's glad he's made it after 30 years and clicked so many photos...now 35 years after his passing... this attest to the height of his popularity. The cemetery even prepared a map for any tourist at the gate.
After an hour...I stood up...cleaned the grave with my hands...as I stupidly didn't have a cloth....i scratched off candle wax...and brush off some debris...I wished he gave me some profound revelation...but there was none...
I just looked at the grave and thought...I didn't feel his presence...I didn't cry...I was just staring at a grave...silent...unmoving...peering at the man....but then I smile....I guess the man has one thing to teach me yet...that in death we may be revered...but life is what matters and I should make the most of mine...
The key to immortality is first living a life worth remembering...
With that I bowed...and walked off...
NOTE: Bruce Lee Grave is situated in Lakeview Cemetery Seattle. about 20 mins from downtown Seattle or take bus no.10