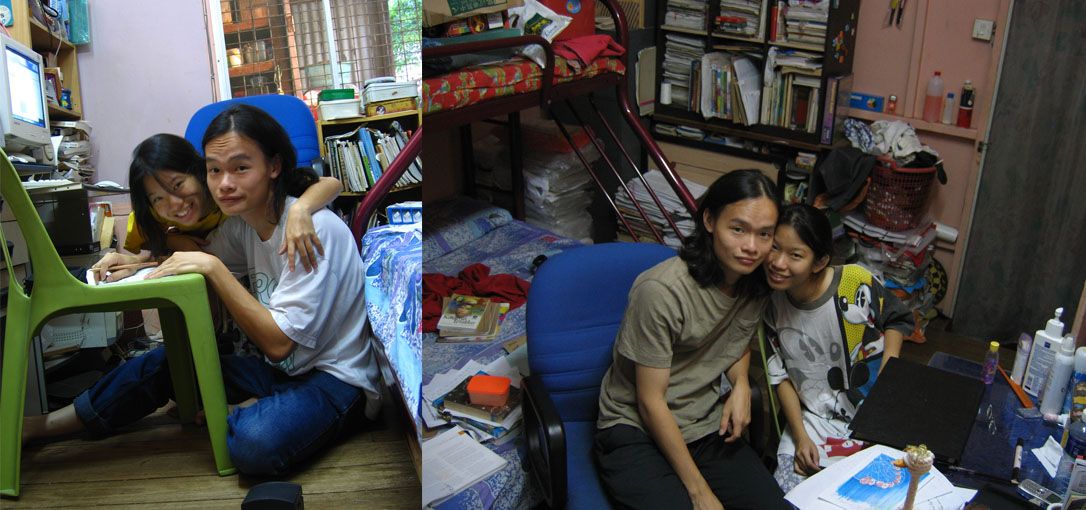 Furiously preparing easter eggs for tommorow's celebration? I doubt many of us are...guess easter isn't that marketed yet...it's a good thing to not become part of our rampant marketing culture but we really should hold at high esteem this important event in any christian calendar...
Now at Pixie's house, come over here to help her stay up and do work through the night as her final's next week.It's quite relaxing here...it's an old cottage like house,partially wooden, one storey.the market is only like 100 meters from her house...I ussually come here...go to market with her in the morning and then she'll teach me cooking, then lunch and time to go home...gives me a sense of domestic life in my lifestyle of modern craziness...her family is nice....
Her father is very funny ...
The other day, we were watching the scent of green papaya together...in the film there was a scene of a green papaya being cut revealing white seeds and flesh...her father remarked that this was false...our papayas have black seeds even when unriped...so after the movie at about midnite...we were to do an experiment...she has a papaya tree in the garden but her dad said unapologetically let's not waste our papaya..lets go take the papaya growing outside our neighbour's fence...next thing I know I found myself part of a three member party strecthing out a stick balancing at the side of a drain trying to pluck a green papaya from across a drain, a tree growing outside her nighbour's fence at night...after successfully getting the green papaya...her dad said...might as well pick the ripe ones too....but anyway...the green papaya's seed was white...all white.
....when I am working with her in her room overnight...her father is always peeping up on us at regular intervals to check that nothing's going on....
The other day we slept in the same room but DIFFERENT MATTRESSES altogether and FULLY CLOTHED,DOOR NOT LOCKED..her father freaked out...her mum told her...we chinese are conservative cannot like that one...her dad told her 'cannot stay together afterwards in the heat of the moment cannot control!!'...but the fact of the matter is there is no heat, no moment...she's having an ulcer...no kisses even... :p
So anyway she answered back to her dad, 'So you were like this towards mum when you were dating her?'....her dad immediately quiet down trying to change topic....then her mum who was around added...'he wanted...i didn't allow!' :P
Happy Easter everyone....celebrate it...